Launching Your Book, Spreading The Word & Making Yourself Famous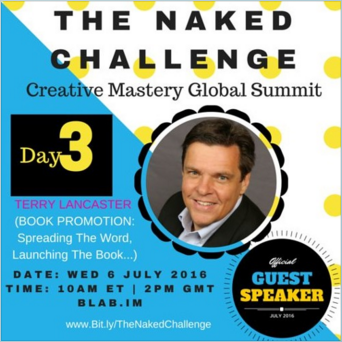 It sounds like the start of the most elaborate, poorly constructed joke in the history of elaborate, poorly constructed jokes:
A redneck from Nashville, a Nigerian radio host, a New York Jew who lives in a 90 square foot house and an author of lesbian romance novels walk into a bar.
But the thing is: this was funny. And informative.
I had a blast today on Blab for the The Naked Challenge Summit. I was on a panel with Alex Okoroji, Felice Cohen and Suzie Carr (I'm the redneck, by the way). We covered a ton of ground for aspiring writers from making (not finding) the time to write to planning, organizing, and promoting your work to telling your friends, the universe and yourself that YOU ARE a writer.
I talked about the three biggest mistakes authors make when it comes to promoting their book and the best single bit of advice I have for aspiring authors.
You can watch a replay of the broadcast here: The Naked Challenge Summit Day 3